A complaint can concern a broken article, that the customer received something other than they ordered, a Transport Damage, and many others.
Complaint Flowchart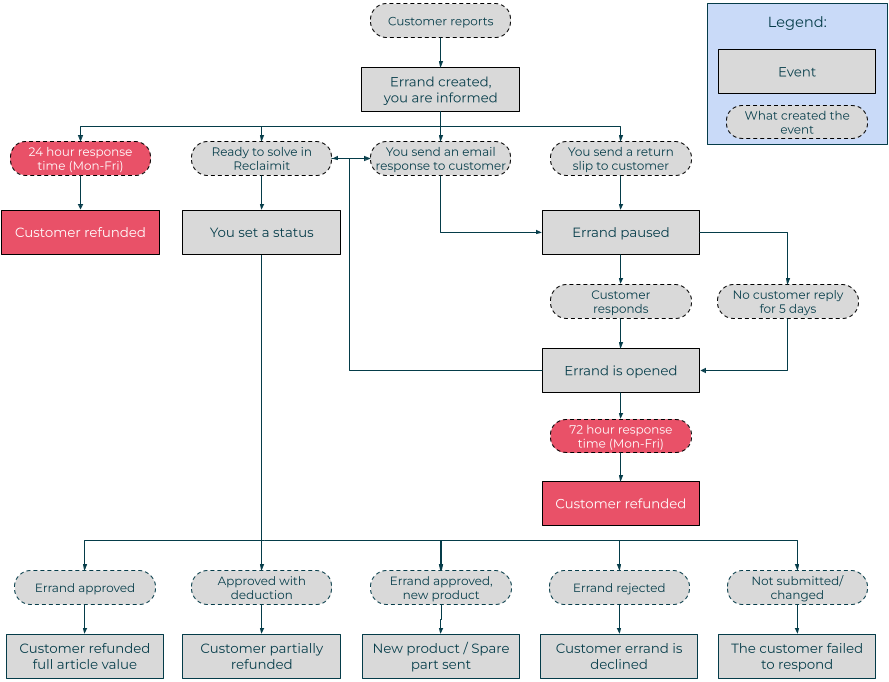 Customer files a Complaint
When a customer reports a Complaint, we ask for the following information from the customer at the point of errand creation:
The customer must provide one of the following Complaint Reasons


Broken Product
Wrong product
Bad Product Quality
Missing Parts
Product feels fake

The customer must write an Issue Description
The customer is able to submit Pictures and video
Please note that for bulky products, which is the case for packages 20 kg or heavier, you must schedule a pickup from the customer's address.
Declining a Complaint
In order to decline a customer complaint you must provide photographic evidence in your assessment, regardless of whether you have had the article returned to you or not.
If you have had the article returned to you, you must offer the customer a re-return. In conjunction with this you must also inform the customer about the cost for a return, both with and without tracking. If the customer approves the cost for having the item returned back to them, change the errand status to Escalated so that Fyndiq can create a new return slip to the customer.
Burden of proof for Complaints
According to the Consumer Sales Act (Swe: Konsumentköplagen) the Burden of Proof is on the seller for the first two years after a purchase. This means that, unless you can definitely prove that the customer caused an issue, the Complaint must be approved. You as a merchant maintain the right to either repair or replace the item, or refund the customer in full.