Fyndiq offers a 30 day regret period calculated from the final day of the delivery window. During the period from Black Week until 31 December, the regret period is extended to 31 January.
In cases of Regrets, the customer covers the costs for returns within Sweden. Link: Using Fyndiq's return slips. The exception to this concerns bulky products which is the case for packages 20 kg or heavier. In these cases, you must schedule a pickup from the customer's address.
Regret Flowchart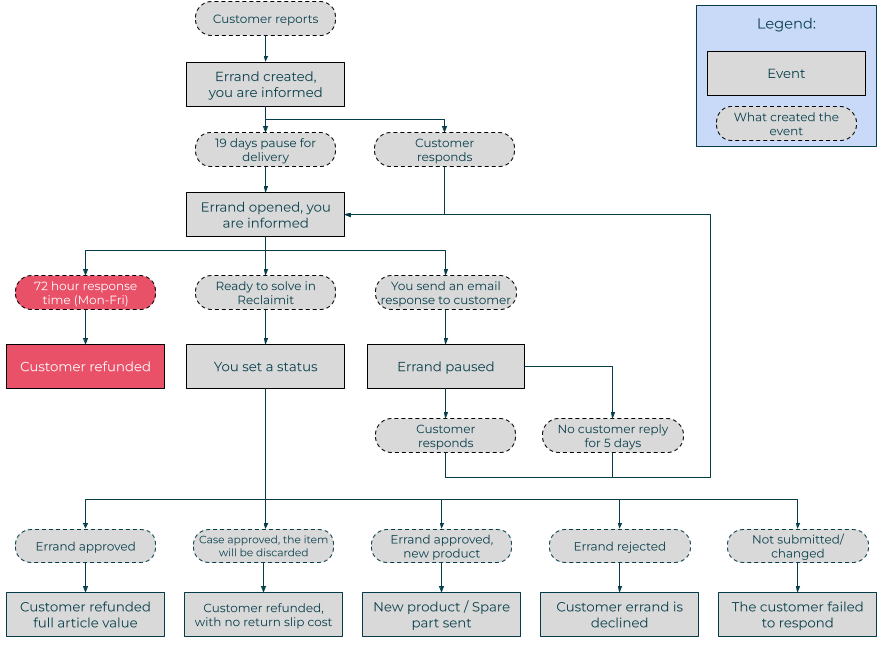 Customer reports a Regret
When a customer reports a Regret, we ask for them to provide a Regret reason:
Changed my mind
Not as expected
Wrong purchase
The customer is also asked to pick a return slip. The return slip contains your return address, so that the item is returned to you. You can see the customer return slip, and track the package, through the errand Overview in Reclaimit. Link: Working in Reclaimit
When the customer creates their errand, it is placed on hold for 19 days so that the customer can benefit from a healthy margin to both return the item and for it to arrive. The errand will also re-open if the customer sends you an email during these 19 days. After the 19 days the errand opens, Fyndiq will also remind you, and this will require a response within 72 hours according to the response times set up for active errands. Link: When does Fyndiq refund the customer?
Approving a Regret
When the times comes to refund the customer for their Regret, there are two Statuses to choose between in Reclaimit. Link: Solving errands in Reclaimit
It is imperative you pick the correct Status, so that we can charge the customer for the return slip.
Declining a Regret
In order to decline a customer regret you must provide photographic evidence in your assessment, regardless of whether you have had the article returned to you or not.
If you have had the article returned to you, you must offer the customer a re-return. In conjunction with this you must also inform the customer about the cost for a return, both with and without tracking. If the customer approves the cost for having the item returned back to them, change the errand status to Escalated so that Fyndiq can create a new return slip to the customer.
Items excluced from the Right of Regret
Items that, for health or hygiene reasons, are not suitable for returning must be sealed. If a customer regrets such a purchase, and the seal is intact, Right of Regret remains valid. If the seal is broken, you can reject the customer request.
This applies to, among other things:
Underwear
Piercings and wigs
In-ear headphones