NB: Fyndiq return slips are only valid for deliveries to Sweden, and only from Sweden, Denmark, or Finland.
Fyndiq have an agreement with Postnord meaning that you, through Reclaimit, can buy return slips for Complaints for a reduced cost. Fyndiq return slips are only valid from Denmark, Finland, and Sweden. They are only valid for returns to a company with a return address in Sweden.
How do I create a return slip through Reclaimit?
Press Create Freight Label in the errand Overview
Choose the return method (Carrier profile) that best fit your product weight (marked red in the below image)
Choose to either save the return slip as a .pdf so that you can attach it to the customer yourself (the first orange icon, with a printer) or let Reclaimit email it separately (the second orange icon, with a letter)
Email the customer and inform them about the process of returning
Just sit back and wait! :)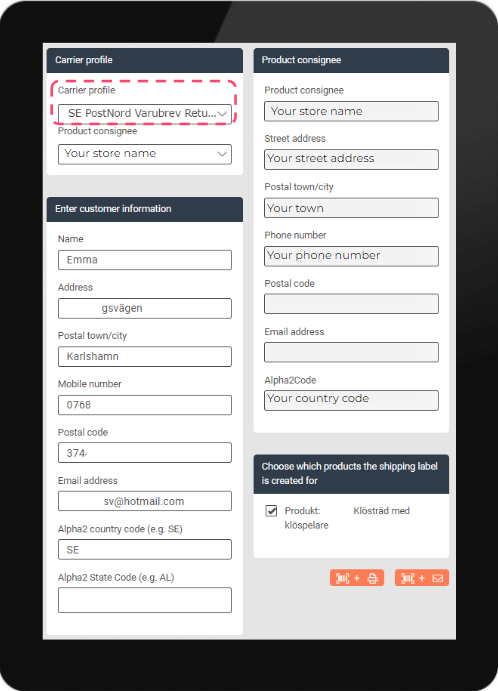 What is the cost of Fyndiq return slips?
Costs for returns entirely within Sweden
Please note: the customer always covers the full cost of return for Regrets within Sweden. Prices for returns within Sweden therefore apply only to Complaints.
| | | |
| --- | --- | --- |
| Return method | Maximum weight | Cost incl. VAT |
| Postnord Varubrev Retur | 250 g | 41 SEK |
| Postnord Varubrev Retur | 500 g | 55 SEK |
| Postnord Return DropOff | 3 kg | 80 SEK |
| Postnord Return DropOff | 10 kg | 120 SEK |
| Postnord Return DropOff | 20 kg | 177 SEK |
Costs for returns from Denmark to Sweden
Return method
Maximum Weight
Cost incl. VAT
Issue Type
Postnord Return DropOff
3 kg
80.50 DKK
Complaint
24.50 DKK
Regret
Postnord Return DropOff
10 kg
120.50 DKK
Complaint
36.20 DKK
Regret
Postnord Return DropOff
20 kg
164.80 DKK
Complaint
49.50 DKK
Regret
Costs for returns from Finland to Sweden
Return method
Maximum Weight
Cost incl. VAT
Issue Type
Postnord Return DropOff
3 kg
€12.40
Complaint
€5.00
Regret
Postnord Return DropOff
10 kg
€20.80
Complaint
€8.30
Regret
Postnord Return DropOff
20 kg
€27.90
Complaint
€11.20
Regret