We are happy to announce that Fyndiq is live in Denmark (fyndiq.dk), Finland (fyndiq.fi) and Norway (fyndiq.no)! Please find below the requirements and important information to consider to start selling your products in the Nordics.
Requirements and specifications
Are you interested in selling your products in Denmark, Finland or Norway? Here are some first steps that you need to consider:
Delivery time:

Identify what delivery time you need to put on each product for each country.

Price:

Calculate what price (incl. shipping cost) you need to put on each product for each country. The prices will be set in local currencies — DKK for Denmark, EUR for Finland and NOK for Norway.

VAT:

Find out what VAT you need to put/include on each product for each country.

Bank account:

Check with your bank if you need a separate bank account for each currency since you will also be paid in the local currency. Either way, before you can start selling you need to register your IBAN

here

.

Translations: Product descriptions and titles will be translated automatically by Fyndiq by default. However, if you already have translations in any Nordic language we recommend you to use these.
If you are interested to sell in our Nordic markets, please contact the Merchant Support team at seller@fyndiq.com and they will get back to you regarding the next step in the process.
Specific requirements for Norway
For the Norwegian market we will use the VOEC system, which makes it significantly easier for most companies to sell to Norway via Fyndiq. Since Fyndiq is registered for VOEC and is selling your products via Fyndiq's platform your company does not need to be registered in the VOEC registry. Please be aware that you are not allowed to sell products with a unit price of 3000 NOK excl. VAT or more.
NB! If your company is registered for VAT in Norway or if you have a Norwegian branch you are unable to use the VOEC flow and sell via Fyndiq in Norway.
Here
you can read more about how VOEC works.
Guidelines for selling in Norway:
Make sure to check with your logistics partner(s)

regarding which delivery methods are approved for VOEC.

You will use your existing merchant account for sales in Norway (the articles you have already uploaded will also be sold in Norway)

You will need to have a bank account, IBAN (can be Norwegian or Swedish, etc.) which can receive payment in NOK.

If you need to register a new account, fill in your details here.
Please be aware that you need to use Fyndiq's VOEC number on the customs declaration for each order.
Apart from this, there will be similar guidelines to the other Nordics markets when it comes to updating product price, delivery time and automatic translations of product texts. The requirements of having a EU VAT number also applies for Norway.
Enable your articles
When you set your articles live for the Nordic countries you should not upload new articles, but instead update your existing articles with information about each market (selling price, original price, delivery time).
In Merchant Center you enable your articles for each market by ticking the box "Enabled" and fill out price, VAT, shipping time and delivery type for each market.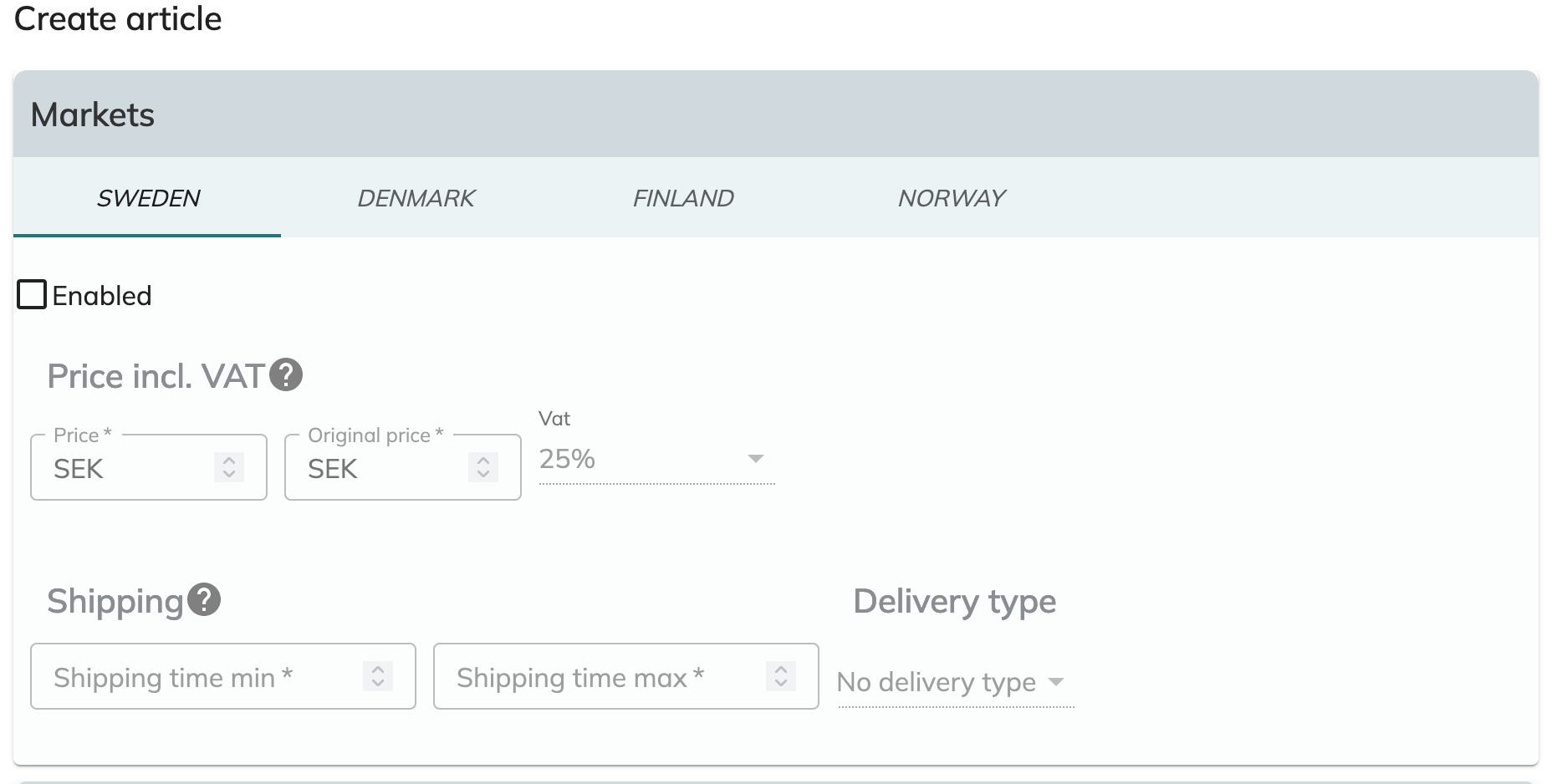 We recommend you to fill out the properties in the local language for optimized language quality. If not possible, please add properties in English.
For product title and description the text will be translated automatically if you add the information in English or Swedish.
Handling of customer service issues
During the launch period of our Nordic markets, we will be operating our customer service a bit differently.
All tickets you receive will be submitted by a Fyndiq agent in your preferred language (Swedish or English)
After you reply to the agent, they will translate your answer and submit it to the customer
Fyndiq will act as a translator and middleman in interactions between you and our customers outside Sweden
You will still be able to refund the customer, decline the customer, or request products in return by sending a return slip. The difference is that you do not do this through Reclaimit, but instead directly by email to the Fyndiq agent
Please note that the response times present in Sweden will apply to all Nordic markets: 24 hours (Mon-Fri) for new tickets and 72 hours (Mon-Fri) for ongoing errands. Before Christmas, we will move to Reclaimit for all Nordic markets. At that point, we will produce information about how ticket handling will be operating going forward.
Returns and complaints
Returns: The customer is responsible for the cost of a return from a Nordic country to Sweden (Finland, Denmark and Norge).
Complaints: If customer would like to return a product due to a complaint you provide a return shipping label to us which we forward to the customer. Please note that the return shipping label should apply to international returns.
VAT handling in the Nordics
Sales outside the market where the purchase takes place
If you as a merchant operates in a different country than where the sale is taking place (Denmark or Finland) reverse VAT liability will apply. Practically, Fyndiq buys your products via Fyndiq's Finnish or Danish VAT number (the product is sold from one EU country to another). For more information about how reverse VAT liability works for Swedish merchants, read more here.
In Finland and Denmark Fyndiq sells the products within the country and has to add Finnish or Danish VAT, therefore you as a merchant add Finnish or Danish VAT to the product price.
For sales that take place in Norway Fyndiq pays the sales VAT.
Sales within the local market
For sales within the local market the VAT rules of the local country apply.